Vandalism linked to Habib Ullah verdict 'hard to stop'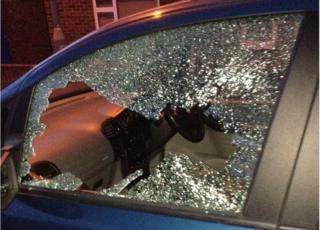 Vandalism linked to a recent inquest verdict is proving "difficult to stop", a police commissioner has warned.
A coroner recorded a verdict of misadventure after Habib Ullah, 39, collapsed during a police stop and search in High Wycombe in 2008.
More than 150 cars have been vandalised since the 2 March hearing.
Thames Valley Police and Crime Commissioner Anthony Stansfeld said officers were throwing "everything at the problem".
A number of people have been arrested and released on bail in connection with the vandalism.
Mr Stansfeld said those responsible for the damage were "driving along roads and smashing car windows as they pass".
"It's very difficult to stop because it happens so quickly," he said. "The damage these people are doing is affecting all the communities in the town including their own - it's absolutely ridiculous."
A post-mortem examination carried out soon after Mr Habib died found packets of cocaine in his colon and lodged in his throat.
When the vandalism first broke out Saqib Deshmukh, from the Justice 4 Paps campaign, said the group "condemn these acts completely."
The damage has included smashed windows and seen the letters "NJNP" - thought to stand for No Justice No Peace - spray-painted on cars.