Concern as cat 'dragged' on lead in Welwyn Garden City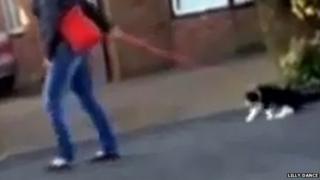 The RSPCA has expressed concern after a video of a cat apparently being dragged on a lead by a woman in Hertfordshire was posted online.
Lilly Dance filmed the cat in Welwyn Garden City. She said she suggested the woman pick it up as it "didn't look overly happy about being walked".
Many of the 1,500 people who watched her five-second film reacted angrily.
The RSPCA said it was concerned as the incident "appears to be causing the cat distress".
Miss Dance said at first she thought it was "quite amusing" seeing a cat being walked on Beehive Lane, until she realised it was "being dragged".
The woman ignored her protest and carried on pulling the animal for "a good five minutes".
'Sense of control'
Her video on YouTube has been viewed by more than 1,500 people since she posted it on Sunday evening and shared on a community Facebook page.
Miss Dance said reactions varied from "animal cruelty" and "ridiculous" to "it's only a cat" and "it's good exercise".
Alice Potter, a companion animal scientist from the RSPCA, said: "We have concerns about the handling of the cat in this footage as it appears to be causing it distress.
"The cat does look like it's kind of being dragged and looks distressed, putting its front paws out like it wants to stop.
"Without seeing more it's hard to know how comfortable the cat is walking on a lead but it gives the impression that the cat was not particularly comfortable or relaxed."
Putting cats on leads took away the animals' "sense of control", Ms Potter said.
If harnesses are used they should be introduced gradually from a young age and stopped immediately if a cat shows any sign of stress, she added.