Habib Ullah verdict: Police 'not serious' about vandals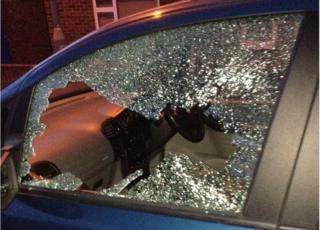 A vandalism spree linked to an inquest verdict is "not being taken seriously enough" by police, campaigners have said.
More than 200 cars in High Wycombe have been damaged since a misadventure outcome was recorded over the death of Habib Ullah - known as Paps.
Campaign group Justice 4 Paps said a public meeting was needed to end continuing "copycat action".
Thames Valley Police said it had met with those "directly affected".
The crime spree began shortly after the 2 March verdict on the death of Mr Ullah, 39, from Slough, who collapsed during a police stop and search in 2008.
Car windows have been smashed and "NJNP" - thought to stand for No Justice No Peace - painted on vehicles.
Eight people have been arrested and bailed over the damage.
'Hard to understand'
Justice 4 Paps has condemned the acts but said while it could understand people's initial anger it was now "harder to understand".
Spokesman Saqib Deshmukh said: "What we're seeing now is copycat action .... my concern is we are not addressing it in the right way."
He said the group had information to suggest people "from a range of backgrounds" were involved.
"Unfortunately, the police actions only seem to concentrate on one group of people - which is a group of young Asian men," he said.
"I don't think the police are taking it seriously enough, just putting mounted patrols into one area isn't enough."
Mr Deshmukh said a public meeting was needed so affected communities speak to police and campaigners.
Thames Valley Police said it had been using social media "to reach more people than a community meeting ever could" and officers on patrol had been speaking to residents.
The force has also said a misconduct hearing will be held following the inquest verdict.