Janet Brown murder: New DNA sample over Radnage killing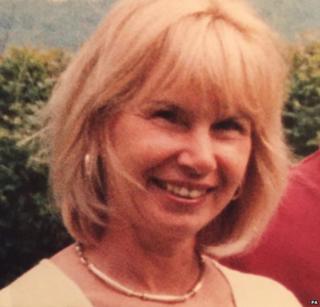 A new DNA sample has been produced by police investigating the murder of a nurse 20 years ago.
Janet Brown, 51, was attacked on 10 April 1995 and found naked at her home in Radnage near High Wycombe, Buckinghamshire, the day afterwards.
Thames Valley Police said the sample belonged to an "unknown person".
Peter Beirne, from the major crime review team, said: "It could be a vital piece of evidence linking the killer to the scene."
Police revealed details about the DNA sample on the 20th anniversary of Ms Brown's death.
The Oxford University research nurse had been alone at home and was found at the foot of the stairs by builders who arrived to do some work at the detached house on Sprigs Holly Lane.
A post-mortem examination showed Mrs Brown died of head injuries police believe were inflicted by a blunt instrument such as a crowbar.
There was no evidence of sexual assault and police said they were keeping an open mind on a motive.
One theory was the crime was a burglary gone wrong because a window had been broken - but nothing was stolen.
'Mass screening'
Advances in scientific techniques meant it had been possible to extract the DNA, although police were not revealing the source of the sample.
Police said there were plans to swab a number of people who featured in the original investigation but there were "no suspects, as such".
Mr Beirne said he was first appealing to the public to put forward names of anyone they believed may have been involved, who would then be tested.
"Somebody out there knows who killed Janet - we're asking them to make contact," he said.
"With this new DNA evidence it should be a simple task to either eliminate or implicate people as the source of the DNA."
The inquiry team said if nothing useful came to light then they may look at "a potential mass screening" in the area.
Mrs Brown's daughters Roxanne and Zara, who were aged 18 and 23 at the time of the killing, said the horror of their mother's death "stays with us every day".
"She was attacked and killed in our family home - a place where we should all be safe," they said.
The women also said they believed their mother's murder had been planned.