Carl Wheatley 'beat daughter to death' at Hatfield home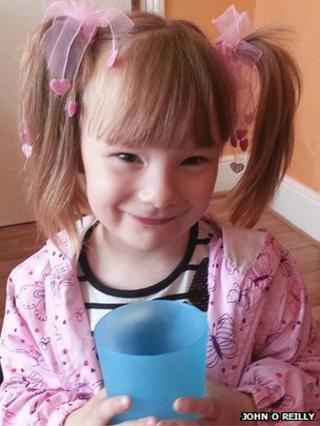 A father beat his four-year-old daughter to death with "hard sustained persistent hitting", a court has heard.
Carl Wheatley, 31, from Hatfield, hit Alexa-Marie Quinn with such force that fat was released into her bloodstream and blocked her lungs.
At St Albans Crown Court, Wheatley denies murder but admits manslaughter on the grounds of diminished responsibility.
A pathologist found Alexa died from "extreme blunt force trauma".
"Alexa-Marie Quinn died from a severe beating from her father," prosecutor Christopher Donnellan QC said.
"He lost his temper with her - she was just four-and-a-half years old.
"It was not just a sudden loss of temper. It was sustained persistent hard hitting."
The little girl had lived with Wheatley since 13 December 2013 after he gained custody. She was found with fatal injuries on 12 March.
Wheatley, a supermarket worker, dialled 999 for the emergency services on the morning of the fatal attack but it was too late.
Mr Donnellan said it was likely Alexa had been dead for a few hours.
The court heard Wheatley had previously tried to keep Alexa out of sight after she had suffered bruising and lost a tooth.
To postpone meetings with social workers he lied to them that he had car trouble, the jury was told.
Judge Andrew Bright QC told the jury: "The killing of a child is likely to arouse strong emotions - such a reaction is completely natural and entirely understandable.
"Please put emotions completely to one side."