Hertfordshire county flower's 50% increase at Ashridge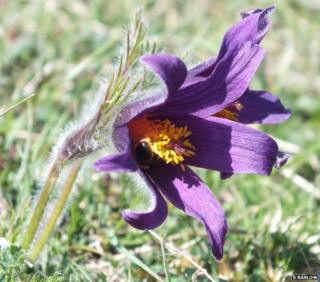 Scientists have increased "nationally scarce" pasqueflower numbers by more than 50% at a site in Hertfordshire.
The county flower was once found at 127 sites in England but because of habitat changes was found at 19 sites by 2011.
Experts from the Royal Botanic Garden in Kew have worked with the National Trust at Ashridge to boost numbers.
Kew researcher Dr Sarah Barlow said they had "come a long way" since 2011 in understanding how the plant germinates and is pollinated.
"Now we understand how the plant networks are linked through pollinators - and we understand how to get the plant to survive either as a seed or as a transplant," she said.
The pasqueflower is found on flower-rich chalk and limestone sites in England, she said, habitat which is dwindling.
About 60 plants have been propagated at Kew and transplanted to the existing small population of 100 plants at Steps Hill, part of the National Trust's Ashridge Estate near Berkhamsted.
This increased the population by more than 50%.
For the first time, research was done using a new type of motion-detector camera into how the plant was pollinated, and it was discovered that its "predominant pollinator was one species of solitary bee, Osmia bicolor", said Dr Barlow, who is a researcher in restoration ecology.
A long-term field study has also been set up within a short distance of Steps Hill, to discover why pasqueflower seeds fail to regenerate.
Dr Barlow said: "There are now 300 plants surviving at the site so we can now tell that it is critical the seed is given a gap in the vegetation to germinate, and this is where traditional grazing management [with cattle and sheep] is so important to create disturbed gaps."
The pasqueflower was chosen as Hertfordshire's flower following botanical organisation Plantlife's County Flowers campaign to mark the Queen's Golden Jubilee.