'Free meal' Audi garage reaches £700 restaurant bill deal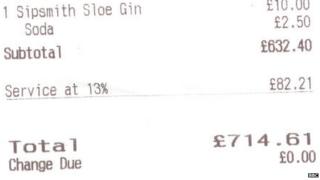 An Audi garage which was hit with a £700 restaurant bill by a customer who was offered a compensatory "free" meal has agreed to cover the full cost.
Siobhan Yap, 27, dined at Michelin-starred L'Atelier de Joel Robuchon after her car was damaged by a delivery vehicle on the company's forecourt.
Watford Audi initially said it would pay half of the "excessive" tab.
But it has since agreed to pay Ms Yap £250, with the remainder going to a charity of her choice.
Ms Yap said she was "very happy".
Her Audi A3 convertible - which she had bought second-hand for £20,000 - was hit while parked at the garage.
When it offered to cover the cost of a meal for two "for the inconvenience caused", Ms Yap treated her mother to dinner, and ran up the £714.61 bill at the Covent Garden restaurant.
The garage had refused to cover the whole bill but agreed to pay £357 "to make amends for the incident". Ms Yap argued it should have "specified a price limit".
'About the principle'
Watford Audi has now agreed to pay the bill in full, but the extra money will go to an organisation which puts on play schemes during the school holidays for children with physical impairments.
Ms Yap would not reveal the name of the charity but said: "It's an organisation I hold very close to me and I volunteer with when I can.
"For me it was more about the principle of customer service, so I'm happy for [the money] to go to [charity].
"It's what I wanted from them, the fact they should settle the bill .... it doesn't really matter how it was settled."
A spokesman for Audi UK confirmed the Watford dealership had agreed with Miss Yap it would donate the outstanding £357 balance of the restaurant bill the charity.
He said: "Miss Yap has also agreed to accept the £250 originally offered by the team at Watford Audi in full settlement, meaning that the £107 she had originally requested in addition will now be included in the charitable donation, taking the total to £464."