Atif Ali murder conspiracy: Luton sisters jailed for perjury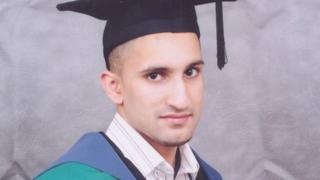 The ex-fiancee of a man targeted in a love triangle assassination plot has been jailed for lying to jurors.
Nazeem Dad, 29, admitted committing perjury during the trial of ex-boyfriend Shahzad Mahroof, who was jailed last year for conspiring to murder accountant Atif Ali.
She originally told police Mahroof had threatened to have Mr Ali killed, but backtracked on her statement in court.
Dad was given a 12-month sentence at Luton Crown Court.
Her sister Afjay Fatima, 35, was jailed for nine months after she also admitted a charge of perjury.
Sentencing the sisters, Judge Michael Kay QC told them: "You came to the witness box and both of you in turn lied".
"You made a conscious decision to lie to the court in the context of a trial of conspiracy to murder - there is nothing much more serious in these courts.
"The message has to go out that if you commit perjury you will go to prison."
'Dead man'
The court heard Dad became engaged to Mr Ali after her family rejected Mahroof, a long term boyfriend, for not being good enough to be her husband.
Prosecutor Edward Lewis said the sisters were in Mr Ali's car on 13 May 2013 when they were approached by Mahroof, who told Mr Ali: "You are a dead man."
Mr Ali, 27, was shot at close range in his left thigh in Leicester Road, Luton, at 11:30 BST on 20 May 2013 and needed a seven-hour operation to save his leg.
Both women told police Mahroof issued the threat but, giving evidence at Mahroof's trial, said they did not know him.
Dad's barrister, Elizabeth Dean, said she had felt under pressure because of her Muslim cultural background.
"She was being blamed for the shooting of Mr Ali and has received abuse," she said.
As a result of the shooting she has been disowned by her parents, who have moved back to Pakistan, and has twice tried to commit suicide, Ms Dean said.
Fatima's barrister, Sarah Przybylska, said the mother-of-four was genuinely remorseful and had been frightened at the prospect of giving evidence.
After a trial last year, Mahroof, 29, was told he would serve at least 15 years in prison.
The man he hired to carry out the shooting, Bernard Pillay, 42, was also convicted of conspiracy to murder and sentenced to life with a minimum prison term of 17 years.