Collapsed Audi showroom 'designed to carry car weights'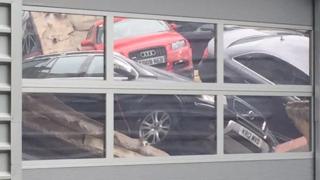 Part of an Audi showroom that collapsed, sending up to 20 vehicles crashing into a workshop beneath, had been "specifically constructed" to hold cars, the company has said.
A section of the first floor of the showroom on Northfield Drive, Milton Keynes, gave way at about 12:00 BST on Monday. No-one was injured.
The Jardine Motors Group said the first floor load was "significantly within design limits".
The damage is still being assessed.
Although the company said it was not yet able to confirm the exact number of vehicles damaged, Jason Cranswick, Jardine Group commercial director, said: "A small number of the vehicles damaged were customers' cars, the rest were unsold vehicles owned by the dealership.
"The building was specifically designed and constructed in 2014 to include a car park above the workshop area, accessible by a ramp at the rear of the building."
Mr Cranswick said having a car parking area on a first floor was "not a unique feature for a modern car dealership" but said it was one of only two within the group.