Audi Milton Keynes showroom collapse damaged 34 cars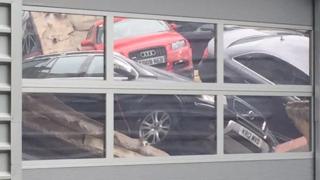 Thirty-four cars worth tens of thousands of pounds were damaged when the roof of an Audi showroom collapsed, the company has revealed.
It was initially thought between 10 and 20 vehicles were damaged when part of the first floor in Milton Keynes gave way at about 12:00 BST on 1 June.
The accident sent cars crashing to the floor below. No-one was injured.
Six of the damaged vehicles belonged to customers. The remaining 28 belonged to the Jardine Motors Group.
The company has not yet revealed the cost of the roof collapse in terms of damage to both its building and the cars, as this is still being assessed by insurers, said Jardine commercial director Jason Cranswick.
The showroom on Northfield Drive was specifically designed and constructed in 2014 to include a car park above the workshop area, accessible by a ramp at the rear of the building.
At the time of the collapse the Jardine Group said the first floor load was "significantly within design limits".
'Overwhelming understanding'
It is not yet known what caused the first floor to fall in.
Customers whose cars were damaged were provided with courtesy vehicles and the company is in the process of arranging permanent replacements for them.
"The understanding demonstrated by our customers has been overwhelming, really," Mr Cranswick said.
The company's showroom at the front of the building reopened on 15 June.
The workshop beneath the car park has had to be relocated to another part of the town for the next six months.