Watford fan attack: Nic Cruwys to return to football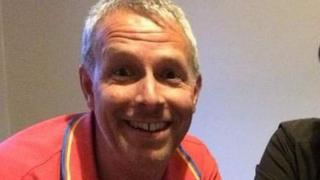 A Watford supporter who went into a coma after being attacked after a match has said he cannot wait to return to watch his team in the Premier League.
Nic Cruwys, 44, from Hemel Hempstead, was assaulted after watching a match in Wolverhampton last March.
After months of recovery he is "buzzing with excitement" ahead of newly-promoted Watford's opening game against Everton at Goodison Park.
Six people have been charged with assault in connection with the attack.
Mr Cruwys suffered a severe head injury when he and a group of friends were attacked as they headed to the railway station after Watford's match against Wolves on 7 March.
Since then, he was moved from the intensive care unit at the Queen Elizabeth Hospital in Birmingham to a high dependency ward and eventually back home.
'Milestone'
An online fund to support his recovery has raised about £40,000.
He said his recovery is going well, but returning to watch football for the first time since the attack was a "milestone".
"I'm buzzing," he said. "As soon as the fixtures came out I was downstairs watching Sky Sports and I was phoning my mates finding out if they wanted to go."
Although Mr Cruwys is not nervous about returning to football as, he said, "I don't remember what happened the last time," his wife, Jodie, is more concerned.
She said: "It's not the same as it used to be when he goes to football," she said. "He used to go out the door and that would be it. I'd just be, 'see you later' but now I want to know who he is going with, how he is getting there.
"From my point of view, last time he went to football he didn't come back for four-and-a-half months."