Home Office apologises to illegally held asylum seeker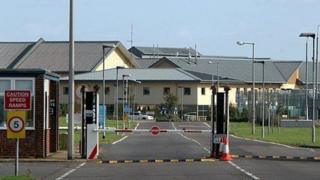 The government has apologised to a pregnant asylum seeker unlawfully held at Yarl's Wood Immigration Removal Centre.
The Congolese woman was five months pregnant when she was arrested in 2014. Currently pregnant women should only be detained in exceptional circumstances.
In a High Court settlement, the Home Office admitted her detention was a "breach of policy".
It will also review its policy for pregnant asylum seekers.
The Secretary of State authorised the detention of the woman, known only as Ms PA, on 3 February so that she could be interviewed by the Congolese authorities as part of a request for an emergency travel document.
She was held for ten hours at Cardiff Bay police station before being transferred in an eight-hour journey to Yarl's Wood.
Ms PA told officials she was due to have her 20-week scan but this did not take place during her four-week detention, during which time she was seen by a midwife once.
She was released on 4 March and had her scan a week later.
Written apology
Detention policy in regard to pregnant women states they are "normally considered suitable for detention in only very exceptional circumstances" or where "removal is imminent".
Her detention was challenged on the grounds of "unlawful arrest, detention and treatment" and "unlawful implementation of the policy".
The Home Office agreed she was "unlawfully detained" and ante-natal care "did not meet the standards expected" and has issued a written apology.
It has also agreed to pay her damages and to review its policy by carrying out a "targeted consultation".
A spokesman said it had "accepted the court's ruling" and the "government is committed to treating all detainees with dignity and respect".
It said an independent review of welfare in detention had recently concluded and it would "consider its findings and take action where appropriate".