Jollyes pet shop in Bedford removes 'pets as gifts' sign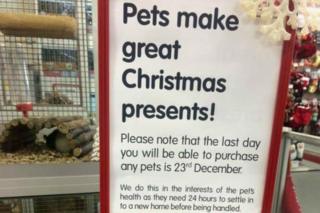 A pet shop has removed a sign encouraging customers to give animals as gifts after a wave of complaints.
Jollyes Petfood Superstore in Bedford apologised after a photo of the notice, with the message "Pets make great Christmas presents", was widely shared on social media.
The advert said pets would only be available to purchase until 23 December "in the interests of [their] health".
Disciplinary action was being taken, the firm told the BBC.
Managing director Nick Pollard said: "something like this should never have happened".
Beth Worsley one of the first customers to complain, said it was a "really bad message" to send.
"I just think it's a really bad message to send that animals come under the same category of the 'in toy' at Christmas... It just didn't seem right," she said.
Jollyes received about 100 complaints about the sign after "uproar on social media" was reported by Bedfordshire on Sunday.
British Veterinary Association president Sean Wensley said it was absolutely right the sign, at the Alban Retail Park branch, was taken down.
"This kind of advert encourages people at a time of year when it's just not suitable. It might be an impulse purchase that they haven't put a lot of thought into, and even if they have, this isn't a good time of year to get a pet because typically it's quite chaotic," he said.