Usain Bolt running shoes stolen in St Albans car break-in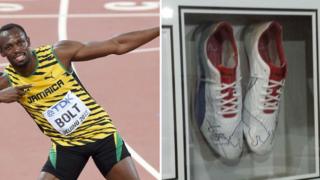 Thieves have stolen a pair of Usain Bolt's trainers after breaking into a car in Hertfordshire.
The Puma running shoes, signed by the Olympic champion sprinter, had been bought at an auction raising money for a sport charity.
They were in a frame with a certificate of authenticity and a photo of Bolt, both of which were also taken after thieves broke into the BMW in Watling Street, St Albans on 21 December.
Police have appealed for witnesses.
The owner of the shoes had paid "a significant amount of money" for the shoes, Hertfordshire Police said.
Thieves broke into the car between midnight and 10:00 GMT, smashing the frame which held the trainers, and making off with all the items.
Jamaican-born Bolt won three gold medals in the 2008 Beijing Olympics and a further three golds in the 100m, 200m and 4x100m at the 2012 Olympic Games in London.