Tilbrook ditch biker: Bedfordshire Police 'didn't need to apologise'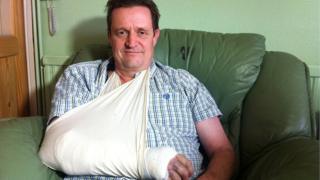 A motorcyclist left in a ditch for two hours after a crash near the border of three counties has said Bedfordshire Police "did not need to apologise".
Richard Collins spoke out after being told new procedures have now been put in place for cross-border police incidents.
Mr Collins was left waiting for help after a crash in September.
The accident was in Bedfordshire, within metres of its borders with Cambridgeshire and Northamptonshire.
Mr Collins said he was "happy" forces had changed procedures for cross-border incidents and "did not need an apology".
The biker, left with a broken arm after the crash, said: "Bedfordshire Police did not need to apologise - they're the ones that did the right thing.
"But I'm happy to hear that operational procedures have changed, so some good has come out of it."
Police now aim to prevent such confusion happening again.
A Bedfordshire Police spokeswoman said this means cross-border incidents will be handed over "by logging a live incident rather than though inter-force contacts".
The review was carried out by the collaborated Bedfordshire, Cambridgeshire and Hertfordshire Professional Standards Department.
The biker was riding on the B645 on 20 September when he crashed.
Between 16:00 BST and 18:15 BST two 999 calls and two 101 calls were made.
Mr Collins was told police and ambulance crews were on their way, but no-one reached him until 18:40 BST.
He was taken to hospital by a Bedfordshire police officer.
It was eventually established the crash occurred in Bedfordshire by a few metres and the force referred itself to the Independent Police Complaints Commission (IPCC).
An IPCC spokesman said: "There is no indication that police contact may have caused or contributed to a serious injury.
"We therefore referred the matter back to Bedfordshire Police."