Woburn Center Parcs flooded in heavy thunderstorms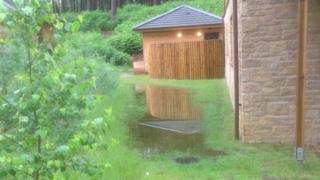 Holidaymakers at a Center Parcs site were forced to leave their lodges after heavy rain caused a number of buildings to flood.
The holiday village at Woburn Forest in Bedfordshire was hit by thunderstorms on Sunday night.
A Center Parcs spokeswoman said seven lodges were affected by flooding, with three families being moved into alternative accommodation as a result.
The storms also caused widespread flooding in Letchworth.
On Twitter, Hertfordshire Fire and Rescue Service's "Reqs the Fire Dog" account posted pictures of the town's swimming pool, which was completely submerged.
Elsewhere, two homes in Milton Keynes were damaged after being struck by lightning. No-one was injured.
Read more: Flooding across the three counties