Convicted rapist jailed for new attacks in Hertfordshire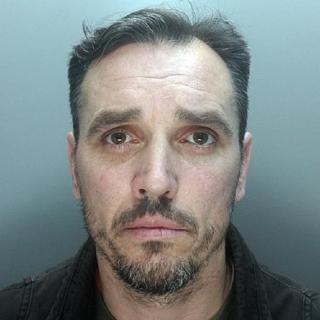 A "violent" sex offender who raped a woman after attacking a teenager months before, has been jailed.
Christopher Parsons, 41, attacked the teenager, 16, following his return to the UK after serving a jail term in the US for other sex offences.
At St Albans Crown Court, Judge Andrew Bright QC said it was "difficult to overstate" the danger he posed.
Parsons, of Castle Street, Hertford, served 13 years of a 17-year jail term for raping a woman in California.
The court heard that on his return to the UK in March 2013, no DNA sample was taken from him, enabling him to remain undetected after the attack in June last year and to carry out the rape, in December.
Read more on this and other Hertfordshire stories
His return came after he was convicted of raping a woman in Sacramento, on 13 September 2000.
On 2 May 2013, magistrates at Uxbridge ordered him to register as a sex offender for life, but did not get the DNA sample taken.
Parsons then went on to attack the teenager in Musley Lane Ware, Hertfordshire on 15 June last year.
He told his victim he would kill her if she did not stop struggling, but she screamed and people came to her aid forcing the attacker to flee.
It was from a scratch to her neck that a swab was taken that was to provide a sample of the attacker's DNA, the court heard.
'Fought like tigress'
But, only after his arrest in December, following the rape in Hertford, did police make the connection with the earlier attack.
In June, a jury convicted Parsons of causing actual bodily harm against the teenager, falsely imprisoning her and a charge of intending to commit a sexual offence.
Parsons, who was described by Judge Bright as a "violent manipulative man", was also found guilty of one charge of raping the other woman in December last year. He was cleared of raping the same woman in November.
Judge Bright also said: "I want to praise the courage and fortitude of this 16 year old girl. He was very much stronger and heavier than her. She fought like a tigress."
In passing a discretionary life sentence on Parsons, the judge told him he must serve 10 years and 167 days before he can be considered for parole.
Outside court the teenage girl's mother said: "If his DNA had been taken at the time he came back from United States, it would not have stopped the attacker on my daughter but the other poor woman would not have been attacked and he would have been caught 6 months' earlier."