James McCann trial: Priest in charge was 'most evil man'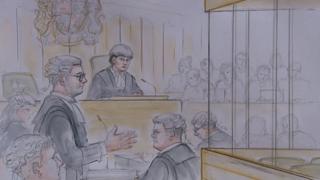 A former resident of a Catholic boys' home was beaten and sexually abused by nuns, priests and carers, a court has heard.
The alleged offences took place at St Francis children's home in Shefford, Bedfordshire in the 1960s and 70s.
The witness, who cannot be named, described Father John Ryan, who was in charge, as "the most evil man".
James McCann, 80, is accused of 52 charges of physical and sex assaults on 26 boys.
The witness told the jury he would bleed from ear and nose after being physically assaulted by Mr McCann.
'Sadistic'
He described an incident when he was about 13 when Mr McCann, who was a carer at the home, slapped him on the ears in a punished referred to as "the clappers".
"He would bring his two arms wide apart and then he would bring them down on your ears like that and hit your head like that," said the witness while illustrating the method in court.
"The eardrums would get the full force."
Earlier the witness had told the court that some of the nuns who taught at the home would also abuse the boys physically or sexually.
He described Sister Zita as being "very aggressive", Mother Xavier as "quite sadistic" and claimed that Sister Realino had twice sexually molested him.
All three nuns, along with Father Ryan, have since died.
The witness also described an incident when both Mr McCann and Father Ryan visited him in a dormitory when he was bed-bound with a bad knee.
He said Mr McCann was carrying a large saw and was told they were going to saw his leg off.
"I was petrified," said the witness.
Mr McCann, who has denied the charges, is not attending court as the judge has decided he is not fit to stand trial.
The trial continues.