Yarl's Wood officer accused of raping female detainee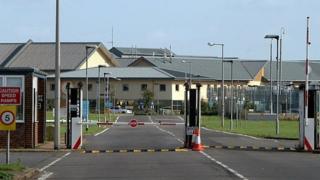 A vulnerable woman was raped by a guard at the Yarl's Wood Immigration Removal Centre, a jury has been told.
Luton Crown Court heard the detainee, now 26, also engaged in sexual activity with two other detention officers.
Syed Hussain, 34, of Croyland Drive, Elstow, denies sexual assault, oral rape and misconduct in public office.
Bodrul Islam, 30, of Gibbons Road, and Thomas Redmond, 28, of Joyce Close, both Bedford, both deny misconduct.
The woman, who cannot be named, was challenging her deportation from the Bedfordshire centre and did not want to "rock the boat" when she became involved with three officers between September and December 2012, the court heard.
Opening the case, prosecutor Christopher Donnellan QC said: "Each defendant took advantage of a female detainee in their charge. She was not a free person. It put her at a disadvantage and made her vulnerable just for that reason.
"Each defendant was employed by Serco in a public office. They are in a position of trust and they are accountable to us in how they carry out their duties."
Mr Hussain is alleged to have groomed the woman over several days. "He flirted and flattered her and kissed her and asked her how long since she had since sex. He coerced her into performing oral sex. It was a very serious breach of his public duty," the jury was told.
It was claimed she thought the second officer, Mr Islam, was single and that they were in a relationship. "There was kissing, sexual touching and oral sex. She agreed to what was happening," said Mr Donnellan.
Mr Redmond is alleged to have known of inappropriate behaviour and not reported it. "He put her over his shoulder and started kissing her. She contends it was a single event," the prosecutor said.
The case continues.