Bake Off's Nadiya Hussain tells of anti-Muslim abuse on train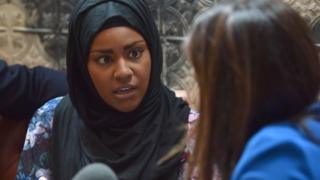 Great British Bake Off winner Nadiya Hussain has spoken of the abuse she received after a passenger on a train refused to sit next to her.
The 31-year-old, who grew up in Luton, said the man had remarked: "I ain't sitting near a Muslim" on a train service on Wednesday.
"His ignorance is his own ruin," she added in her tweet about what happened.
Hussain has previously spoken about abuse and how "it feels like that's become a part of my life now".
"I expect to be shoved or pushed or verbally abused, because it happens, it's happened for years," the mother-of-three told BBC Radio 4's Desert Island Discs.
She won the 2015 series of the hit baking show and has gone on to become a columnist, author and television presenter.
A contestant from this year's Bake Off, Rav Bansal, replied to Hussain's tweet saying he had recently had a similar experience.
"You are a much better person then he will ever be," Bansal said.
A spokeswoman for Hussain was unable to confirm any further details about the incident.
Last week Hussain told the BBC's 100 Women season she thought it was important not to "feed negativity with negativity".
She said: "I live in a lovely country. I don't want my kids to grow up with a chip on their shoulder.
"Those negative people and those negative comments are the minority and I don't let that dictate how I live my life."