Transport police officer created 'fake ex' to stalk partner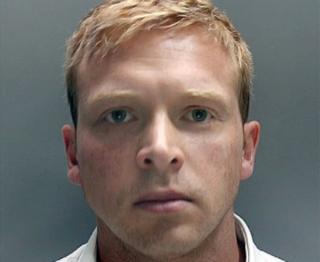 A policeman who waged a "sinister" stalking campaign against his then girlfriend has been jailed.
St Albans Crown Court heard Steven Campbell, 28, even created a fake ex-girlfriend to abuse his real partner via social media and email.
British Transport Police officer Campbell, of Harpenden, admitted aggravated stalking and was jailed for 18 months.
Judge Jonathan Carroll said it was the worst psychological abuse he had seen.
Campbell invented "Nicola Cole" as a fake ex-girlfriend in 2014 and posed as the fictitious character to send messages to himself which went from saying Campbell was a "great guy" to sinister images of the inside of the victim's home to pornographic photographs.
Campbell showed the messages to the victim, who contacted "Nicola", asking her to leave them alone.
'Driven to utter despair'
Before Christmas 2014, "Nicola" messaged the victim saying she had worn out Campbell while having sex at the couple's home while his girlfriend was out. She said she liked the wreath on the front door, but not the victim's Christmas tree.
Andrew Howarth, prosecuting, said: "The woman was petrified and felt physically sick when she was sent a photograph of the wreath on the front door from Nicola Cole."
Judge Carroll told Campbell: "You engaged in the most malicious, nasty, manipulative form of controlling psychological abuse that I have come across.
"Undermining and insulting words were being used about your victim.
"There was also another sinister element. The messages were designed to make the victim believe she was being watched at home and at work by this fictitious character.
"She was driven to utter despair by your behaviour."
Nick De Freitas, mitigating for Campbell, said: "It started because he wanted to make his girlfriend jealous. He wanted her to know how good he was. To say it spiralled out of control is an understatement. "