Ipswich's hedgehog officer meets her prickly charges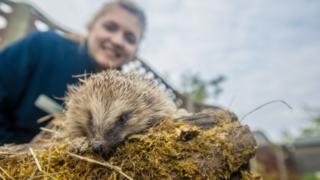 One of the UK's first dedicated hedgehog officers has been meeting some of her prickly charges for the first time.
Ali North, 26, beat about 150 applicants to land the role with Suffolk Wildlife Trust.
Although she started the job six months ago, most of the hedgehogs are only now waking up after winter hibernation.
While they have been sleeping, she has been promoting "hedgehog highways" and recruiting "hedgehog champions".
"The champions are people that want to make their whole street hedgehog-friendly," Ms North said.
"They'll be the first port of call to basically persuade their neighbours to help."
Up until now, zoology graduate Miss North had only seen Ipswich's hedgehogs through photos or videos from residents.
She said there were about 9,000 hedgehogs recorded in the town.
The British Hedgehog Preservation Society (BHPS), which has part-funded her job, said there had been a national decline in hedgehog numbers by about a third in urban areas and about 50% in rural parts.
That means a major part of Miss North's role is getting people to "care" about hedgehogs' plight.
"We're trying to get the message out there as to why people should care about hedgehogs, what the situation is and what people can do to help them," she said.
Her advice includes appealing to homeowners to leave certain patches of garden unmown and leaving log piles that would help provide a habitat.
Her position is one of four across the country - others are in London, Solihull and Rugby - funded through the BHPS.