Letchworth murder trial: Killer says victim had devil face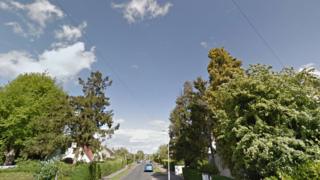 A wealthy Syrian businessman was stabbed to death by his son-in-law who said he saw a devil standing in front of him, jurors have been told.
Nicholas Daher, 85, was knifed three times by Sammi Ozone because he allegedly resented the older man's controlling behaviour, a court heard.
Mr Ozone, 60, of Whitethorn Lane, Letchworth, denies murdering Mr Daher on 4 January.
Mr Ozone has pleaded guilty to the lesser charge of manslaughter.
Kitchen attack
The killing happened when Mr Daher was staying at the house in Whitethorn Lane, Letchworth where Mr Ozone lived with his wife Samur, also 60.
Prosecutor Robert O'Sullivan said: "For a number years the defendant had ill-feeling towards his father-in-law.
"Mr Daher was a very wealthy man, who had funded their lifestyle in Syria where they came from.
"Mr Ozone resented his father-in-law's controlling behaviour," Luton Crown Court heard.
He said the father-of-two attacked him in the kitchen of the house at 14:15 GMT, stabbing him once in the back and twice in the chest.
Mrs Daher-Ozone, who was in another part of the house, heard her husband make a high pitch sound. She rushed to the kitchen and saw her husband trying to stab himself in the stomach. Her father was lying on the floor at the end of the kitchen.
Something 'flipped'
The prosecutor said she dialled 999 and Mr Ozone himself also spoke to the operator, saying: 'I have just saved my children from this devil'.
Mr O'Sullivan said the emergency services were on the scene in less than 10 minutes. An air ambulance was despatched but Mr Daher was pronounced dead at the scene.
Mr Ozone had cuts to his wrists and was taken to the Lister Hospital in Stevenage for treatment.
When questioned by the police, he said something had "flipped" when he went in the kitchen. He said his father-in-law had a devil face.
The trial continues.