Wardown House reopens with 'touch and feel' new look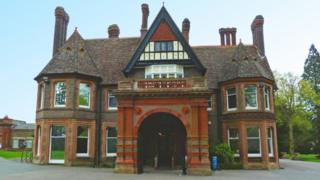 Queen Victoria's silk stockings and a mummified cat are among new exhibits to feature in a revamped Luton museum.
Wardown House will reopen on Saturday after a year-long transformation costing £3.5 million.
Gone are traditional glass panels and dusty memorabilia, replaced by interactive exhibits that allow visitors to touch and feel Victorian life.
The team behind the refit say it offers a unique glimpse of a changing Luton.
Karen Perkins, director of arts and museums at Luton Culture, said information panels have been removed and everything on display can be touched and held. Nothing is stored behind glass.
"For the first time the story of this wonderful house has been unlocked for the public, looking at its history from the mid-Victorian era to its life as a museum and gallery," she said.
"It's really immersive - if you can touch it - then touch it. If there's an open drawer, take a look inside. Open the book and discover it for yourself.
"We trust our visitors to take a risk."
Wardown House was built in the late 1860s for the family of businessman Frank Scargill, but became a dedicated museum and gallery in the 1930s.
The building remains one of around 100 listed buildings in the borough. It is now run by Luton Culture, an independent charity that promotes arts and culture in the town.
The museum will feature more than 3,000 exhibits, 95% of which have never been displayed in public before, ranging from its heritage in hat-making and textiles, to a signed Luton Town FC shirt.
Karen Perkins added: "We want to give visitors the wow factor. For the first time people are noticing the ornate ceilings inside - people suddenly see them. They are truly beautiful.
"The Latin inscription on the side of the house translates as 'spacious house receiving friends' - and it really sums up what we feel about the new museum."
The £3.5m redevelopment cost is being funded through a £1.8m Heritage Lottery Fund grant, plus further grants totalling £1.6m along with public donations and fundraising efforts.