Mystery grave probe at Stanstead Abbotts churchyard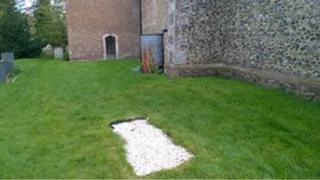 Police have sealed off a 12th Century churchyard after an unexplained grave was found in the grounds.
The grave has appeared close to the building of St James' Church near Stanstead Abbotts.
Hertfordshire police confirmed bones have been found in the grave and a person has been spotted "tending the plot".
It is believed the grave may have appeared last year, but concerns were only recently raised about its origin.
For more on this and other Hertfordshire stories
Forensics officers have been at the site and found bones in the top layer of soil. Early tests appear to confirm the remains inside are human, police say.
---
About the church
St James' Church dates back to at least the 12th Century and possibly as far back as the Saxon period
It ceased to be the parish church of Stanstead Abbots in 1882 when St Andrews' Church was consecrated
Although no longer used for weekly services, the church is used for other community events such as poetry readings, historic presentations and talks
---
The bones are possibly very old and might be nothing to do with the recently-appeared grave, the force said.
Det Insp Anna Borella said: "The church is only used around four times a year, but we know that people regularly visit the graveyard.
"We are appealing to anyone who has seen someone visit the mystery grave or who has information which may help us identify it, to contact us.
"The grave is situated close to the church and there are no graves directly next to it, so anyone visiting may stand out."
Ch Insp Gerry Macdonald said: "We were informed by the local warden that an unmarked grave had appeared in the churchyard and inquiries locally from the church indicated they had nobody buried there."
He added, however, that the site was "such an old graveyard that some of the records might not be up to date".