Stanstead Abbotts churchyard 'mystery' grave decades old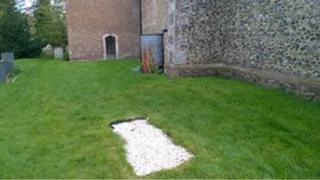 An apparently unexplained grave found in the grounds of a 12th Century churchyard could be decades old, police have said.
The graveyard at St James' Church near Stanstead Abbotts was sealed off after concerns were raised about its origins.
Hertfordshire police said someone connected with the burial contacted them following an appeal for information.
Officers now believe there is "no evidence of criminal activity".
Ch Insp Gerry McDonald said: "The site could date back over a number of decades.
"This is obviously a sensitive issue and out of respect for the family concerned we will not be releasing any further details relating to the grave."
A person had been spotted "tending the plot" and it appeared to be marked out with stones.
Forensics officers visited the site and found bones in the top layer of soil. Early tests appeared to confirm the remains inside were human.
The church, which ceased to be Stanstead Abbott's parish church in 1882, is used about four times a year.