Gorilla London Marathon man raises nearly £50,000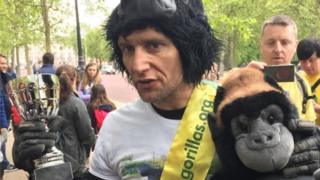 A man has raised nearly £50,000 for gorilla conservation by crawling around the 26.2-mile London Marathon course in costume over six and a half days.
Metropolitan Police officer Tom Harrison, from Amersham, Buckinghamshire, used the name Mr Gorilla during the challenge.
All sponsorship money would go to The Gorilla Organisation, he said.
After crossing the finishing line he was congratulated by TV celebrity and conservationist Bill Oddie.
Mr Harrison missed out on the marathon finishers' medal, awarded to runners who complete the course within eight hours, but was given a trophy and a stuffed gorilla toy.
He slept at friends' homes overnight and spent 10-12 hours most days covering the course.
Mr Harrison said it was difficult crawling on his knees and he eventually decided to walk on all fours - feet and hands.
"When people saw the marathon number on my back they realised what I was doing and support grew.
"People even stopped to cheer me," he said.