Teen's 'treasure' buried in Welwyn in 1981 found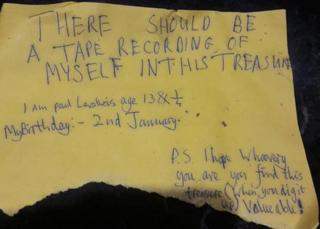 A box of "treasure" has been dug up in a garden, 36 years after it was buried by a 13-year-old boy.
A letter alongside the collection of stamps, an empty lemonade bottle and some coins says it was buried in 1981 by Paul Levallois.
It was discovered at a house in Welwyn, Hertfordshire.
Maja Sobieska, whose sister made the discovery, is appealing for help on Facebook to find the person who buried the box.
"We believe the little boy is called Paul Levallois and might be around the age of 49 today," she said. "Please can you all share this post so we may find Paul and return his treasure."
The box also contains "typical 1981 electronic components", empty jars and bottles, stamps and a cassette containing a "tape recording of myself".
Ms Sobieska said the mother and father of the boy were called Jean and Peter Levallois.