Horse suffers horrific injuries in 'hammer and knife' attack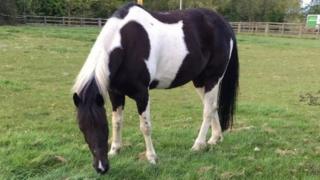 A horse has been slashed multiple times across its body and vets suspect the attacker may have used a hammer to shatter the bones in its face.
Domino, a 13 year-old Trotter Cross, suffered severe wounds to his head, shoulder and side following a suspected knife attack in his field on Saturday.
The RSPCA said Domino was expected to make a full recovery.
He had been grazing in a paddock with three other horses in Newport Road, Woughton-on-the-Green in Milton Keynes.
The attack happened sometime between 17:00 and 20:30 BST on 6 May and no other horses in the field were harmed.
Warning: Graphic image below
The RSPCA said so far it had not received any reports of other attacks in the area and believed it was an unprovoked one-off attack.
"I can count on one hand the number of horse attacks I've seen in the last 10 years," inspector Susan Haywood said.
"Domino has horrendous, deep injuries on his face, he is lucky he didn't lose an eye.
"He has a long road to recovery - not just in terms of healing, but the trauma that he went through."
Read more stories from Beds, Herts and Bucks here
She said Domino's owner, who was too upset to speak to the media, had been left devastated by the attack.
Domino is being treated for tendon damage to his face and has received several stitches. He also underwent surgery lasting fours hours.
An RSPCA investigation is under way to find the culprit.