Henry Huggins: Trial begins over Luton head-stamp death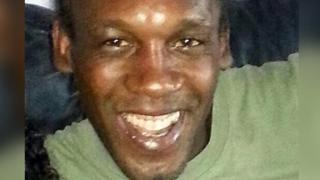 A man who was attacked outside his home spent 22 months in a coma before he died, a court has heard.
Henry Huggins, 48, was injured near his flat in Luton, on 8 August 2013 and died in June 2015.
Stuart Docherty, 42, admitted causing grievous bodily harm in connection with the attack in September 2014 but now faces a charge of murder.
James Early, 43, who was convicted of causing actual bodily harm in November 2014, is now charged with manslaughter.
'Vegetative state'
Luton Crown Court heard Mr Huggins was attacked in a dispute over his American pit bull dog which the defendants claimed had not been kept under control.
The jury were told he was first punched in the face a number of times by Early, which caused him to fall to the ground unconscious.
Doherty is then alleged to have arrived and jumped on the head of Mr Huggins.
Prosecutor Stuart Trimmer QC said Mr Huggins suffered "catastrophic brain damage" and remained alive in hospital "in a persistent vegetative state" until June 2015.
"Some describe it as being alive in name only," he added.
"The present indictment charges these defendants with respectively murder and manslaughter.
"The essential difference in this trial as opposed to the last is that Henry Huggins is dead.
"The date of both of these offences is 10 June 2015. Both of these offences were complete only on the death of Henry Huggins."
Docherty, of Townley, Luton, and Early, of Whipperley Ring, Luton, both deny the offences.
The case continues.