Religious killer Sameer Babar 'known to anti-terror officers'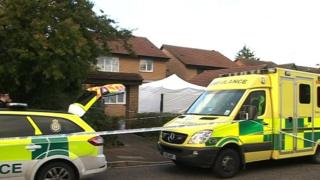 A religious fanatic had contact with an officer from the government's anti-terror programme a day before he fatally stabbed his neighbour, an inquest has heard.
Sameer Babar, 35, who has since been detained in a secure mental health unit, claimed to be a descendant of Jesus and Mohammed.
He attacked grandfather Leonard Flower in his garage on 22 October 2013.
Babar first came to the attention of Prevent in July 2013.
The first day of the hearing, in Ampthill, heard from engagement officer Det Con Daniel Hurley.
He said Babar came to his attention amid concerns "about him giving religious talks at Luton library" and "videos he shared on social media".
"He was claiming to be a direct descendant of the prophet Mohammed and Jesus," Mr Hurley added.
The officer said Babar had been thrown out of a Mosque and it "became obvious he was mentally ill".
The day before the killing Mr Hurley again spoke to Babar, who said: "God punishes the wrong doers and arrogant people."
Mr Hurley had contacted a mental health team who said they would get a psychiatrist to see Babar before the end of the day.
Retired computer analyst Mr Flower was found lying in a pool of blood by a couple delivering leaflets in Carnegie Gardens, Luton.
In a statement to the inquest, Mr Flower's widow Linda said she met her husband when they were teenagers. The pair had been married 47 years.
Babar, 35, later pleaded guilty to manslaughter and was sentenced at Luton Crown Court in April 2014.
Judge Michael Kay ordered he be detained indefinitely under the Mental Health Act.
The inquest is due to last five days.