Smoke seen across Stevenage after Fairlands Valley Park fire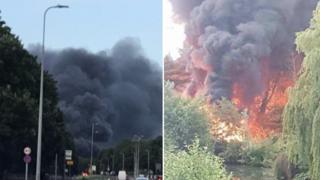 A fire which sent a large plume of smoke into the air over Stevenage started in a plastic jetty over a lake.
The blaze, at Fairlands Valley Park on Monday evening, spread from a lake, badly damaging decking and trees nearby.
Hertfordshire Fire and Rescue service said it had more than 60 calls reporting the blaze, which could be seen across the town.
It has begun an investigation into the cause of the fire.
A spokeswoman said: "Crews worked hard in difficult conditions to contain the well developed blaze."
The fire was first reported at about 20:45 BST and put out by 21:30.
Hertfordshire Police is also investigating. A spokeswoman said: "The cordon has now been lifted at the scene and police enquiries are on-going at this time."
Smoke could be seen across the town and people living near the site, just off Fairlands Way, were initially advised by the fire service to keep their windows closed.
Stevenage Borough Council said its staff were helping to assess and clean up the damage but the park remains open to the public.
A spokesman said: "The Environment Lake was affected by a fire but thanks to the fast response of the fire and rescue service, staff and the police, the fire was contained quickly and safely."
It is one of four lakes at Fairlands Valley Park, which consists of 120 acres (49 hectares) of parkland in the middle of Stevenage.