Police come to aid of 'pesky Duke boys' in classic car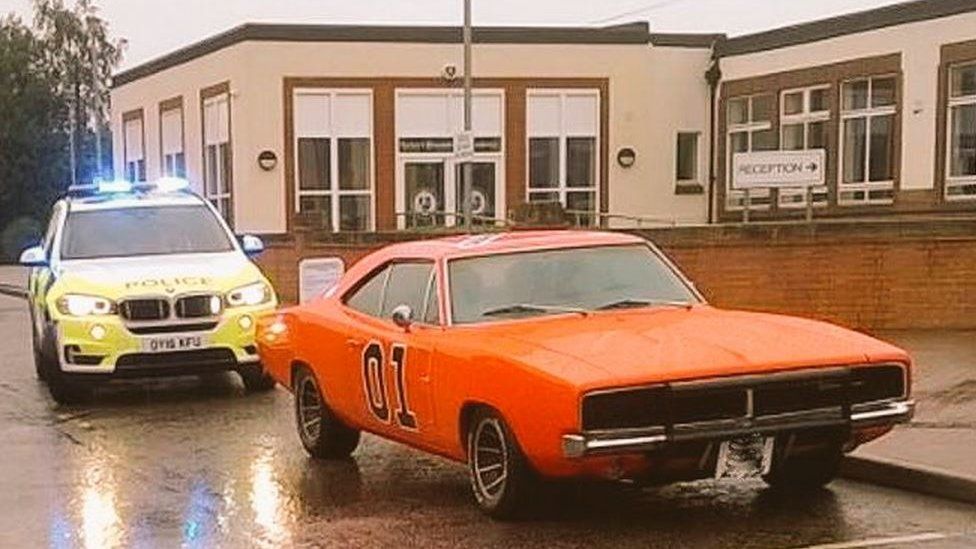 In an unlikely turn of events a policeman came to the aid of the car that played a starring role in the hit US TV series The Dukes of Hazzard.
The "General Lee" Dodge Charger driven by Bo and Luke Duke in the 1980s show spent many an episode escaping the law.
However, on this occasion a replica of the car had broken down in Shefford and needed a bit of help.
"Finally managed what 'Bosshog' couldn't. Caught up with those pesky Duke boys", police tweeted.
"Broken gearbox, one too many jumps maybe," they added, referring to the hectic driving style of the Duke boys in the TV show.
Officers from the Bedfordshire, Cambridgeshire and Hertfordshire road policing unit had popped in to a car show when they came across the General Lee lookalike.
"Like all classic cars this one was having a bad day and had broken down," an officer said.
"Whilst waiting for breakdown assistance the owner requested the photo opportunity for his own records - understandably - and we were happy to oblige."
The car was "fully road legal" and no offences had been committed, he added.
Related Internet Links
The BBC is not responsible for the content of external sites.