Dead mouse in Jiffy bag stalker convicted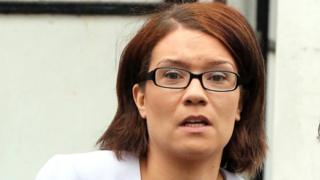 A woman who sent a dead mouse in a Jiffy bag to her ex-boyfriend's new partner has been convicted of stalking.
Poppy Carter, 29, also poured paint and a corrosive substance over a van used by Carly Bradbury, the court heard.
Alex Roberts, Carter's ex-partner, said the ordeal left Ms Bradbury "in bits" and she was prescribed antidepressants.
Sentencing at St Albans Crown Court has been adjourned until 18 August in order to carry out a psychological assessment of Carter.
Carter, who lived in Hemel Hempstead at the time, caused serious alarm and distress to Ms Bradbury during a seven-month period in 2016, the court heard.
She had previously denied stalking.
Carter, now of Upper Latimore Road in St Albans, employed a private investigator to discover where Ms Bradbury and Mr Roberts were living, the court heard.
She then proceeded to send them anonymous cards and letters, including one of a cat closely watching a goldfish in its bowl.
Carter vandalised Ms Bradbury's van, used for her work with a cat protection charity, when it was parked outside her home in Watford.
On Monday, recorder Leslie Cuthbert said a custodial sentence for Carter was uppermost in his mind, having suspended his decision pending Carter's meeting with a psychologist.