Water Eaton patients threaten to shoot staff, GP says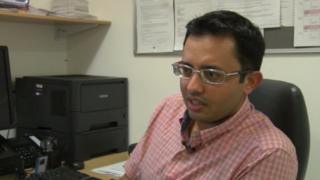 Patients have threatened to shoot staff and lied to get hold of medication, staff at a GP's surgery have said.
Dr Muhammad Faisal said his surgery struggles to retain doctors because patients are "abusive" and "demanding".
He has written to NHS bosses, the police and the local council to highlight the problems at Water Eaton Health Centre in Milton Keynes.
There are almost 200 daily assaults on doctors, nurses and other NHS staff in England, NHS figures show.
The British Medical Association (BMA) said such abuse was "unacceptable".
Thames Valley Police has been contacted for a comment.
NHS England said it is in the process of drafting new guidance on how to deal with abusive patients.
Dr Faisal said patients tell receptionists they have had their drugs stolen, put them through the wash, or dropped and broken their bottles.
But he claims they want extra medication in order to sell it.
'Urgent attention'
His reception staff said patients had threatened to shoot them and drag them over the front desk.
Dr Faisal said: "There are a lot of good patients but there is a good number of bad patients, their behaviour needs urgent attention."
A junior doctor, Dr Dawood Razzak, wrote to the surgery after a three-week clinical trial at the practice, highlighting the abuse he had witnessed.
He said in terms of improving his knowledge, the experience was "perfect" but the pattern of behaviour demonstrated by patients was "worrying".
"They were talking back to the doctor, using obscene language, using a raised voice," he said.
Dr Krisna Kasarareni, from the BMA, said: "General practice is under incredible pressure from rising patient demand, stagnating budgets and widespread staff shortages.
"In this climate, it is understandable that frustration is growing that despite GPs' best efforts there are not enough appointments or services to meet the needs of the public.
"However, it is unacceptable that GPs and their staff should be subject to any kind of abuse."