Airlander 10 clocks up to 300 miles in test flights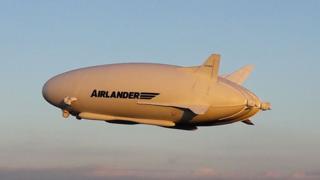 The world's longest aircraft has clocked up to 300 miles on test flights since returning to the skies after being damaged last year, its developer has revealed.
Airlander 10 - a combination of a plane and an airship - has flown three times this year from its base at Cardington Airfield in Bedfordshire.
It has flown as far north as Tempsford and Henlow in the south.
Hybrid Air Vehicles said it plans to "gradually fly higher... and further".
It said on average it has flown between 80 and 90 miles on each flight.
"We will continue to cautiously and progressively expand our flight envelope and gradually fly higher, faster and further than we have before," a company spokesman said.
The £25m Airlander 10 has made five flights in total but it nosedived during a test flight on 24 August 2016.
No-one was injured in the accident, but the airship's cockpit was effectively destroyed.
The accident was due to the Airlander climbing to an excessive height because its mooring line caught on power cables, an Air Accidents Investigation Branch report found.
'Rehearse' flights
The 302ft (92m) long craft made its first flight since the incident in May.
In June it reached a height of 3,500ft (1,067m) - the highest altitude it has attained so far. A third flight was in July.
Hybrid said it has to take time between flights to analyse the huge amounts of data collected and then "practise and rehearse the next flights".
The firm is hoping to build 12 Airlanders a year by 2018, some as passenger aircraft that will carry up to 48 people at a time.
---
Airlander 10 in numbers
44,100 lbs (20,000kg): The mass of the airship
20,000ft (6,100m): The altitude it can reach
80 knots (148km/h): Maximum speed
Five days: How long it can stay airborne on manned flights
22,050 lbs (10,000kg): Total payload - the weight the ship is able to carry
---