Scientist suspended in wake of 10,000 smear test rechecks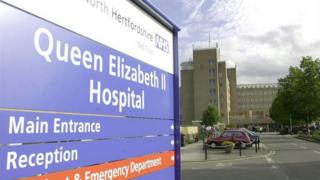 A scientist whose unauthorised decision to change a smear test staining agent led to the NHS having to recheck more than 10,000 samples has been suspended.
About 600 women tested by East and North Hertfordshire NHS Trust had to be retested as a result.
Stephen King was the cytology manager at the time and was responsible for the decision to change the chemical used.
He has now been suspended by the Health and Care Professions Tribunal Service (HCPTS).
The tribunal heard the appropriate staining agent for smear slides was Harris's Haematoxylin.
'Deplorable'
However, faced with a depleted supply of the correct agent, Mr King began using Mayer's Haematoxylin in 2013, which the hearing was told was "not appropriate for the slides in issue".
The change in staining agent went undetected until February 2014, the tribunal was told.
Despite concerns being raised about the quality of the slides, the tribunal heard Mr King responded claiming "the staining at the present is fine".
The tribunal said the issue eventually led to "a review in excess of 10,000 slides that had been screened, and in excess of 600 women who had undergone smear tests had to be contacted for further smear tests".
"The panel takes the view that fellow professionals would consider what he did to be deplorable.
"This misconduct was very serious, particularly with regard to the actual and potential consequences for the women concerned."
The tribunal said Mr King "no longer wishes to work as a biomedical scientist".
The East and North Hertfordshire NHS Trust has yet to respond to a request for comment.