Barton-Le-Clay man told to demolish top storey of house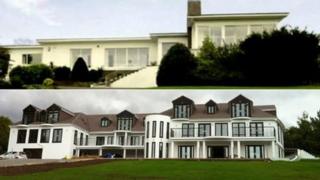 A man who turned a bungalow into a three-storey mansion has been told to demolish the top storey, following a six-year planning row.
Syeed Raza Shah had been given planning permission to increase the floor space of his house in Barton-Le-Clay, Bedfordshire, by about 45% in 2011.
But, Central Bedfordshire Council said he increased its size by 165% and the extensions must be demolished.
Mr Shah now has permission for a revised scheme he said he agreed with.
He said he had "reached an amicable decision with the council and is happy".
A council spokesman said the authority had been informed "Mr Shah is implementing this permission" and "work has commenced on site to bring the unauthorised extensions in line with the permitted development".
"Our enforcement agents are monitoring his progress and our enforcement notice still stands," a statement said.
'Inappropriate development'
The house was originally a two-storey dwelling including a basement, but after Mr Shah undertook the extension and alteration work granted under the 2011 permission the council said the differences were "substantial".
In September 2013, the council refused retrospective planning permission for the home, arguing Mr Shah's alterations amounted to an "inappropriate development" in an area of outstanding natural beauty and told him it must be demolished.
At an appeal against the demolition in May 2014, a planning officer ruled the extension would no longer be demolished after an "unclear" council enforcement order for demolition was deemed invalid.
The council had issued the order over the alleged breach of planning permission but Mr Shah argued the breach - that he had built a new house - had not happened because he just extended the existing building, which was rejected.
After more challenges, in May 2016 it was ruled he had to demolish the extension within 12 months.
Since then, Mr Shah has submitted further planning applications, the latest of which was approved which is "more akin to what was originally granted", the council said.