Ware furniture warehouse fire: Risk of building collapse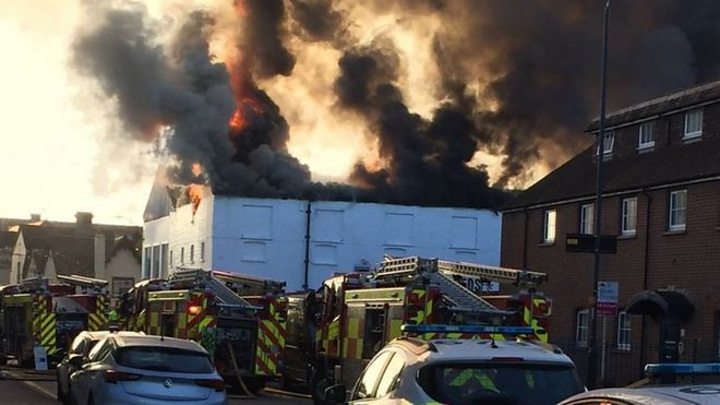 More than 50 firefighters are tackling a blaze at a furniture warehouse amid fears the building might collapse.
The fire took hold at Deans Furnishers in Star Street in Ware, Hertfordshire, at about 07:20 BST.
Hertfordshire Fire and Rescue Service said there were concerns the structure may give way and several road closures have been put in place.
Owner Dean Ambridge said the building was now a "partial shell" and added: "It was my life".
Latest live updates on the fire
Mr Ambridge discovered the fire when he arrived at the warehouse at about 07:15.
"Someone at the opposite shop had already reported it," he said.
"I could see the smoke and thought I might be able to get my PC out, but when I got in the flames suddenly came through, so I ran back out again."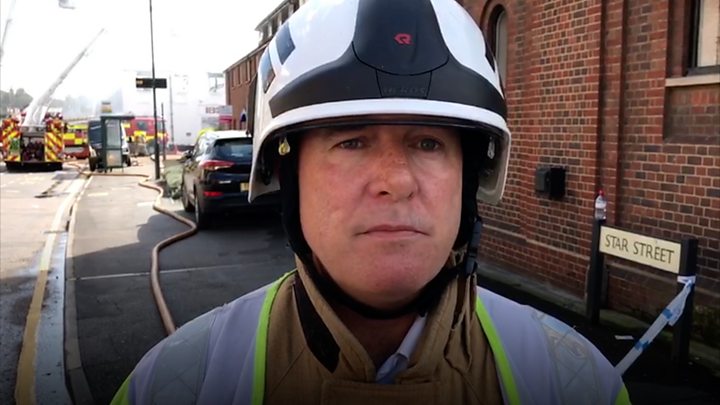 At the scene - Adam Jinkerson, BBC News
Acrid-smelling smoke is still billowing from the warehouse and water is literally pouring out of the building.
There are about 15 fire engines here and two aerial platforms firing water into what was the roof - and is now a gutted shell.
The fact it's right on the river may in fact have been fortunate, as I can see all the fire crews using that to get water.
Dozens of onlookers have been here since before I arrived, standing behind cordons that police have set up in all the surrounding roads.
The warehouse owner, Dean Ambridge, is well-known and respected around here, I'm told.
Earlier I spoke to his wife who was tearful as she told me: "This is our livelihood."
Mr Ambridge said the fire appeared to have started in a section near the river where sofas are stored.
"That end is just a shell, completely gone," he said.
"It's very dangerous and it might collapse. I can't see Star Street opening any time soon."
The fire has spread to a bathroom showroom next door and destroyed part of its roof, Mr Ambridge said.
The family furniture business opened in Star Street in 1976.
"This is all I have ever done. It was my life," he added.