CCTV of a gunpoint raid at Barton Rovers FC released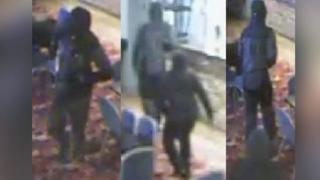 CCTV images of three masked men threatening staff at gunpoint at a football club have been released.
The armed raid happened at Barton Rovers FC, in Barton-le-Clay, Bedfordshire between 00:30 and 01:00 BST on 19 July.
At the time of the incident, club chairman Darren Whiley said: "Our staff are OK, shaken and also angry that scumbags could do this in what appears to be a pre-targeted attack".
They took cash from the till.
They also demanded access to the safe and made off with about two weeks' worth of takings, Bedfordshire Police said.
"Could I thank everyone for their support and kind messages toward the staff affected by the incident? It's heart-warning to know we do live in a caring community event when it's penetrated occasionally by scumbags," Mr Whiley added.
The club play in Evo-Stik South, the eighth tear of the football league.