Footage shows children 'misusing' St Albans level crossing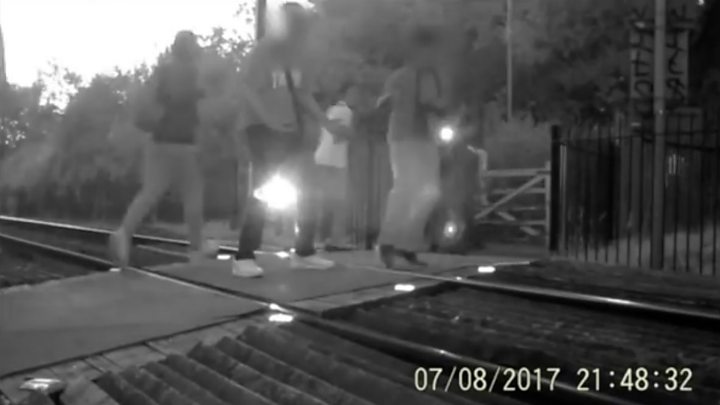 More than 300 incidents of "deliberate" misuse, including four near misses, have been reported at a level crossing in nine days.
Network Rail monitored Cottonmill Lane level crossing in St Albans, Hertfordshire from 1 to 9 July.
Many of the incidents involved children, with CCTV showing pupils balancing and playing on the tracks.
Priti Patel, from Network Rail, said she was "concerned about repeated dangerous behaviour".
The crossing is classified as having one of the highest risk of accidents on the railways, with more than 1,000 people using it a day.
Becky Warren, from British Transport Police, said: "The children in the CCTV are the lucky ones as they were able to leave the crossing unscathed.
"Sadly, there are people who have not been as fortunate, and I have had the heart breaking job of telling families that their loved one has been killed at crossings or on the tracks."
Network Rail said it was working with Hertfordshire County Council and St Albans City and District Council to find an alternative to a level crossing at the site and was making changes to improve safety.
The footpath by the crossing, between St Albans Abbey and Watford Junction, was temporarily closed by Network Rail in 2015 after about 250 "incidents of misuse".
It was reopened after two weeks following pressure from the county council, with the maximum speed of passing trains reduced from 50mph to 20mph.