Game of Thrones: Hertfordshire University hosts academic conference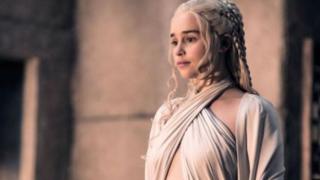 Fantasy TV series Game of Thrones has come under the scrutiny of scholars at an international academic conference.
Experts from countries including Australia, Denmark and New Zealand have been speaking at the event, being held at the University of Hertfordshire.
Topics including the show's huge fan base and copyright issues will be discussed on Wednesday and Thursday.
Organiser Kim Akass said the event would mark the show's "place in TV history".
The senior TV and film lecturer said her university had spent two years planning the conference and decided to stage it as the cult show was a "21st Century TV phenomenon".
"We decided that now - before it gets to the final season - it would be a good time to investigate why it's such a huge phenomenon and what we can learn from it."
The fantasy epic is based on George RR Martin's best-selling books.
A society dedicated to the writer has also been launched during the event at the university's Hatfield campus.
One speaker travelled from France to present a paper at the conference, based on research for her PhD thesis on how the show manages to appeal to fans across the globe.
"It is one of the biggest hits of the 21st Century... and a phenomenon that everyone knows," said Julie Escurignan.
"It is a show that is so complex and so people get attached to it and exchange a lot about it because there is so much mystery."
The TV series, first broadcast in 2011, had its seventh season aired simultaneously this summer in the US on HBO and in the UK on Sky Atlantic.
According to the Radio Times, almost three million people watched what is the penultimate season's premiere in the UK.
Game of what?
The show is based on a series of books by George RR Martin called A Song of Ice and Fire and charts the struggle of noble families fighting for control of land called Westeros
The fantasy epic draws on historical events such as 15th Century England's Wars of the Roses
The series has been filmed in a string of locations including Croatia, Iceland, Morocco and Northern Ireland
Its budget is among the biggest in TV, with the Blackwater episode said to have cost $8m (£6.14m)
The premiere for the seventh season is reported to have attracted 16.1 million viewers in the US
Game of Thrones - made by HBO - has been simultaneously broadcast in 170 countries since 2015
At the conference, about 35 delegates have heard insights into the show's cult success, the death of key characters and its adaptation for adult colouring books.
Following a string of computer hackings and shows being leaked ahead of broadcast, issues surrounding copyright were also being discussed.
It is not the first time the university has staged a conference on a cultural phenomenon - in 2015, it hosted a three-day event on werewolves.