Man jumps on Mercedes Benz bonnet to stop car thief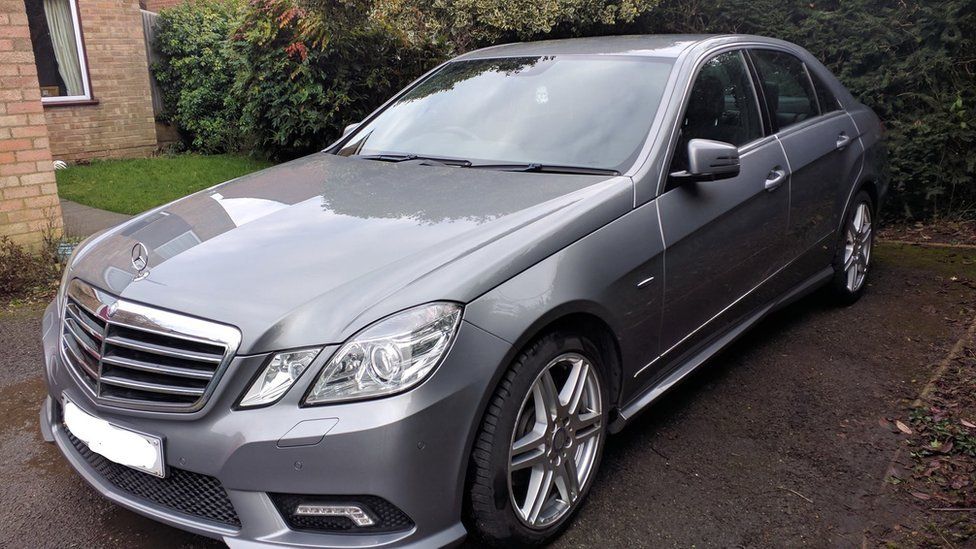 A man has described how he threw himself on to the bonnet of his car and clung on for almost a mile as a thief drove off in it at speed.
Matt Spooner's car was taken when he was assaulted after giving a test drive to a potential buyer in High Wycombe.
When the "buyer" refused to get out, Mr Spooner, who works with film stunt teams, jumped on the bonnet and the thief sped off.
He managed to jump off later but suffered cuts and bruising to his face.
Police, who described the victim's experience as "horrific", are appealing for witnesses or anyone with dashcam footage to come forward.
Mr Spooner had met the potential buyer of his silver Mercedes Benz E250 CDI in Berkeley Road at about 18:00 BST on Wednesday, but after a short test drive, he was "assaulted from behind".
"Next thing I knew, he was in the car and I had myself a serious situation on my hands," said Mr Spooner, who works as a production safety supervisor with film stunt teams.
"I ran round to the front and asked him politely to step out. I then ended up on the front of the vehicle and it began to move.
"I realised that this was it, so I got my feet off the ground and held on tight and that was it, we were away."
The thief drove the car - and its owner - on to the A40 towards Beaconsfield before slowing down, at which point Mr Spooner decided "this was my moment, and I skidded off to the side of the kerb".
While it was happening, he said he was fearful he would not survive.
Mr Spooner, who was selling the car to pay for a family holiday, said: "I'm definitely not a hero, and no-one else should do this."
Although he helps film crews devise stunts, he added: "It's a bad plan to do them yourself."
Thames Valley Police said the suspect was an Asian man in his 20s, short, slim, with black hair.
Officers have asked anyone who has seen the stolen Mercedes or a discarded number plate ending in ONS to get in touch.
Related Internet Links
The BBC is not responsible for the content of external sites.