Whipsnade's giant hillside lion gets 800-tonne chalk makeover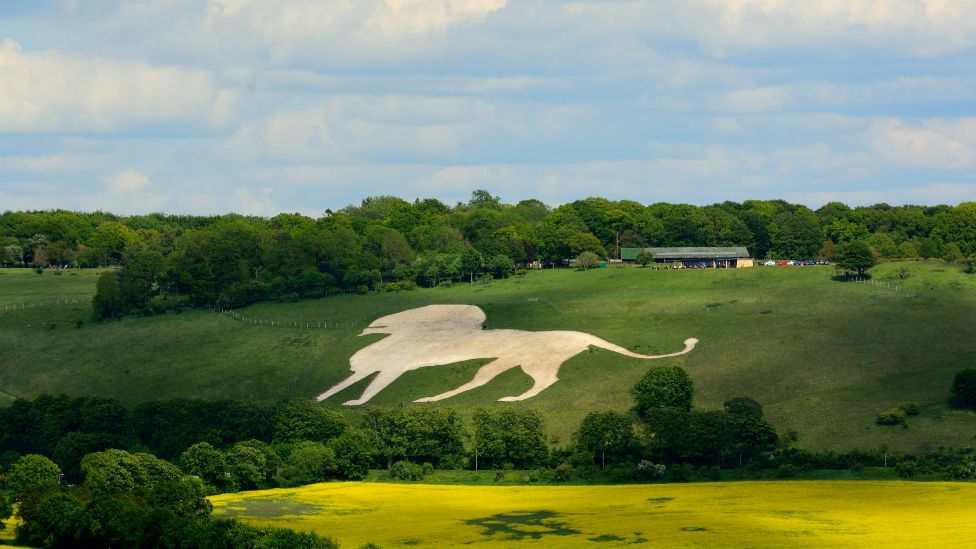 The largest hill figure in England is having a makeover - thanks to 800 tonnes of unwanted chalk from beneath a local resident's house.
The giant 147m (483ft) long lion near Whipsnade Zoo in Bedfordshire had been deteriorating after "unprecedented" weed growth.
The zoo said a resident having excavation work on their home offered them some spare chalk.
Fifty lorry loads of chalk were then delivered to restore the hill creature.
Created in 1933, the lion indicates the location of the zoo. Its general manager, Owen Craft, said the additional layers of chalk will "future proof" the figure.
The restoration work, which started on Wednesday at the head and will work down to the tail, is expected to continue throughout autumn.
Mr Craft said: "Driving in this morning I can already see the head of the lion taking shape, which is fantastic news.
"We're incredibly proud of the lion here. It's stood on the downs since 1933 and are constantly committed to restoring it."
The Osmington White Horse in the South Dorset Downs was carved in honour of King George III, a regular visitor to Weymouth, in 1808. The figure is possibly best known for its appearance on the BBC programme Challenge Anneka in 1989. The show tried to restore it - but ended up damaging it instead.
Created in 1919 following the end of World War One to keep restless and bored New Zealand troops occupied, the Bulford kiwi in Wiltshire nearly disappeared in the 1970s before being restored to its former glory by a group of scouts in 1986. The 1.5 acre (6,100 m sq) figure was designed by Sgt Maj Percy Cecil Blenkarne from a sketch of a stuffed kiwi specimen in the British Museum.
Historic England describes the 180ft-tall (55m) Cerne Abbas Giant in Dorset as "bold and anatomically impressive". Debate rages over its origin - including one theory that it was created as a parody of Oliver Cromwell during the English Civil War.
Related Internet Links
The BBC is not responsible for the content of external sites.