Milton Keynes funeral home to 'screen' bodies under flats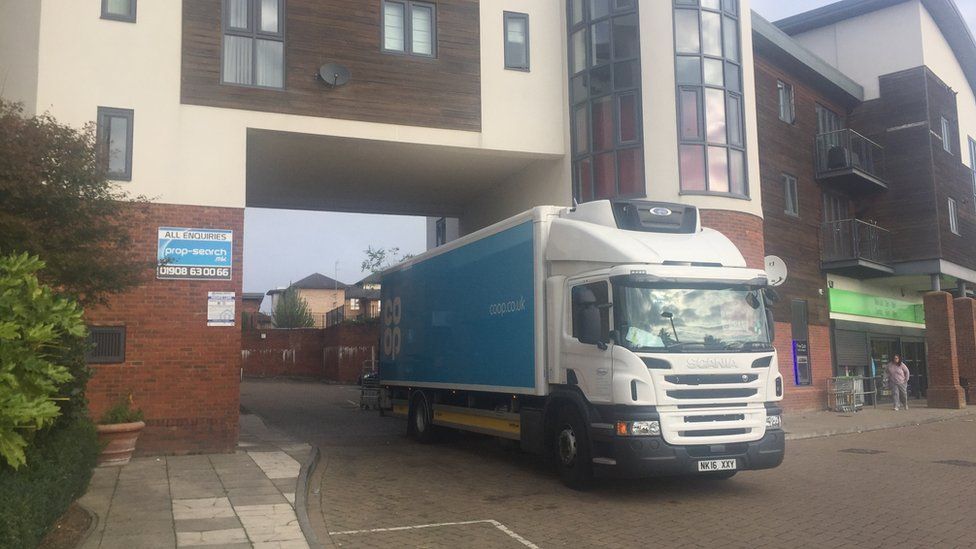 A branch of the Co-op criticised for opening a funeral parlour underneath residential flats will "use screening" to shield dead bodies.
The company has converted an area of its Grange Farm supermarket branch in Milton Keynes into a cold storage and viewing area, the MK Citizen reported.
Residents feared the deceased would be "trundled... under people's balconies".
The Co-op said: "It is quite unusual for us to have concerns raised by people and we want to address those."
Residents have said they knew nothing of the plans until the conversion started.
One, who wished to be known only as Sue, said: "They will trundle them [the deceased] along the pathway, under people's balconies. There's a lot of young children live in those flats and a children's nursery on the other side of some bushes.
"How are you going to explain what is on the trolley?"
Another, Luke Farrell said the facility had been converted "with absolutely no consultation with local residents".
"Why would Co-op think this is an ideal location?" he said.
Labour councillor Zoe Nolan said she had been told by Milton Keynes Borough Council that "you can convert a shop into a funeral parlour without any permission" and therefore the chain was not breaking any rules.
Co-op spokesman Matthew Jackson said: "We want to be good neighbours, this is a very small scale facility.
"The access for bringing any deceased into our care is in quite a discreet area.
"There is no way that anybody will see any of that from the angles and the screening that we will use and we'd like to work with residents to see if we can improve that in any way... that would allay any concerns that would remain after we put those measures into place."
Mr Farrell said that he would "believe [that] when [he sees] it".
"But if we can have some proper engagement that would be great."
Related Internet Links
The BBC is not responsible for the content of external sites.