Dennis the campus cat attracts online fan club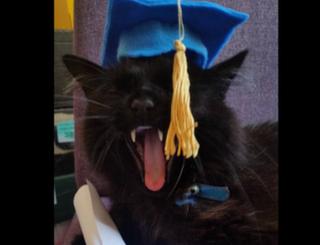 The adventures of a campus cat have transformed a flea-ridden stray into an online celebrity with his own fan club.
Dennis the cat is so popular among students and staff at the University of Buckingham, he now has an active social media following.
The six-year-old moggie sits in on lectures and is often found in the university's library and halls, a spokesperson said.
He has even won the heart of the vice chancellor, Sir Anthony Seldon.
Owners Sophie and Neil Barlow - who live next to the university - are compiling anecdotes of Dennis's exploits for a book.
Read more stories from Beds, Bucks and Herts
The faithful feline was rescued as a stray in London at the age of three months but over the years has adjusted well to university life - flitting between departments for extra food and tickles.
"Six months after we moved to Buckingham he started disappearing for a day here and a day there," Mrs Barlow said.
"We soon learnt that we didn't need to worry."
A Facebook page set up in his honour has attracted about 400 followers.
The page includes images of Dennis perched on chairs and tables in staff offices, snooping around the halls of residence and languishing in the car park.
Fans also clubbed together to pay his vets' bills when he recently fell ill, the page revealed.
Sir Anthony said Dennis was "a force of positivity" with students and a-cat-demics alike, boosting mental health.
"Research has shown that petting cats and dogs can help relieve stress," he said.
"There are no shortage of students and staff willing to brighten up their day by tickling his tummy or giving him a friendly stroke. I am thinking of making him Professor of Feline Studies."
Psychology student Sophie Hughes said: "He's absolutely lovely. Everyone knows of Dennis, everybody loves him - and he's a very spoiled cat."