Call for official protection for Royston's Royse Stone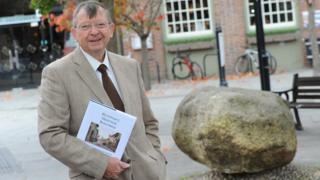 An ancient stone which has stood as a landmark in a town for more than 900 years needs official protection, a local historian says.
The Royse Stone in Royston, Hertfordshire, was used as a base for a cross when it was erected around 1066.
It is thought to have been put up by Lady Roisia when the town was founded.
Historian Peter Ranson said he had researched the 161 listed buildings in the town, but was surprised to find no official protection for the stone.
"I'd like to know, why isn't our Royse Stone protected?" said Mr Ranson, who has written a book about the town's buildings.
"As there is no official protection for it, in theory at least, that means there's nothing to stop it being swept away in the future. Surely our founding stone must be protected."
John Smith, chairman of Royston Town Council, said: "I think Mr Ranson is quite right.
"It would be very nice to feel it was recognised by the community as an historic monument."
However, a spokesman for North Hertfordshire District Council, which would apply for the listing, said: "We have no plans to consider making an application at the present time."
The glacial stone, which began its life in the north of England, is thought to weigh two tonnes and originally stood on the crossroads of the ancient track ways Ermine Street and the Icknield Way.
It was moved to its present site, to the side of the crossroads, in the 1920s.