Wing social club darts match continues through bomb scare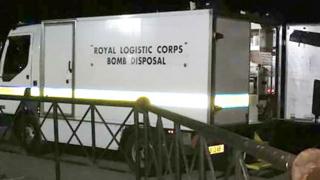 A darts match at a social club carried on while a bomb squad dealt with suspected wartime explosives in the car park.
A member of Buckinghamshire's Wing Sports and Social Club arrived with the devices in the boot of his car after finding them earlier that day.
The club voted to stay open while the suspected detonators were examined.
"There was actually more drama inside with the darts match," manager June Tobin said.
More explosive news and sport from Buckinghamshire
About 100 people were at the club, including darts and indoor bowling teams, at the time.
The man said he found the suspected World War Two devices while working at a building site in Bedford on Monday.
"He came in and said he had dug up some interesting things while on a job," Miss Tobin said.
"Some older members went out to his car to have a look at the items he had casually tossed in his car boot.. they were very corroded, but they thought they could be old World War Two detonator heads."
A photo was sent to Thames Valley Police, which called bomb disposal officers to the Leighton Road club to examine the items.
Miss Tobin said the darts and bowls teams and people drinking at the club's bar were happy to remain while the bomb disposal officers were at work.
"We told locals what was happening as they arrived so they had a choice as to whether they could stay or go - and people stayed," she said.
Miss Tobin added that the bomb squad said the devices were "munitions" and took them away.
She said another squad was sent to the site in Bedford as the man who found them said there were more there.
Thames Valley Police said: "The objects were described to police by the callers as 'metal, very old, rusty, around four-and-a-half inches in diameter and nine inches long'.
"Members of the Ministry of Defence's Explosive Ordinance Disposal attended and removed the items to their base as it was established the items were unlikely to contain explosives or chemicals."