Hertfordshire NHS breath tests for smokers before surgery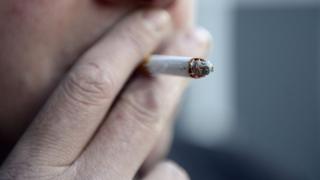 Smokers will be breath-tested before they are considered for non-urgent surgery, two clinical commissioning groups (CCGs) have decided.
Patients in Hertfordshire must stop smoking at least eight weeks before surgery or it may be delayed.
Obese patients have also been told they must lose weight in order to have non-urgent surgery.
The Royal College of Surgeons (RCS) said the plan seemed to be "against the principles of the NHS".
A joint committee of the Hertfordshire Valleys and the East and North Hertfordshire CCGs, which made the decisions, said they had to "make best use of the money and resources available".
Patients with a body mass index (BMI) of over 40 must lose 15% of their weight and those with a BMI of over 30 must lose 10%, or reduce it to under a 40 BMI or a 30 BMI - whichever is the greater amount.
The lifestyle changes to reduce weight must take place over nine months.
'Public backing'
Patients asked to give up smoking will be tested to show the carbon monoxide levels in their blood.
The criteria on all the decisions will apply unless waiting for surgery would be more harmful.
Chair of Hertfordshire Valleys CCG, Dr Nicholas Small, said there had been "wide public backing" for the changes.
A spokesman for Hertfordshire Valleys CCG said patients who fail to quit smoking or lose weight will be given the option to try again and offered the chance to discuss how to "move forward" with a clinician.
The East and North Hertfordshire CCG added: "Switching to vaping would count as giving up smoking so we would strongly encourage people to do that if they find that easier than quitting smoking altogether."
Ian Eardley, senior vice president at the RCS, said losing weight or stopping smoking "should not be a condition of them [patients] receiving surgery".
"This goes against clinical guidance and leaves patients waiting long periods of time in pain and discomfort. It can even lead to worse outcomes following surgery in some cases."
Harrogate and Rural District CCG introduced similar rules last October with a cap of six months.