Cranfield University opens £35m aerospace centre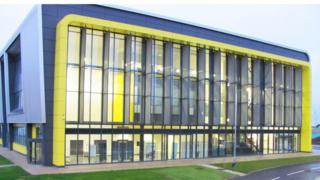 A £35m aerospace research centre that aims to create the next generation of aircraft has opened.
The Aerospace Integration Research Centre, based at Cranfield University, has been co-funded by Airbus, Rolls-Royce and the university itself.
It is the first time researchers from the Bedfordshire institution and the business world will have worked side by side.
Tim Mackley, from the university, said it was a "unique" centre.
'Improve efficiency'
The centre will develop the latest drone and air traffic control technology and features new flight simulators and a virtual wind tunnel.
Mr Mackley said they were working to "improve the efficiency of air travel in the future".
It will also house a full-size aircraft wing and a robot that uses sensors to determine the proximity of a person or object and stops if touched.
The Aerospace Integration Research Centre
The building is 16.6m (54ft) tall, 67.5m (221ft) long and 40m (131ft) wide
More than 500-tonnes of steel and over 90 tonnes of glass was used in its construction
More than 500 people worked on the build, that took a year to build
Source: Cranfield University